We Don't Ask For Our Desires…
… so we may as well get friendly with them.
Even if they're weird, humiliating, or violent (so long as nobody REALLY gets hurt).
Here's what self-defined feminist, Emily, has to say about her fantasies (many of which overlap my own interests):
I consider myself to err on the side of sexual submission. I have never been into the performative aspects of it all — I am not some weird sex LARPer who wants to wear costumes and address each other as "Master" and "Slave." I don't want to go to special events, I shouldn't have to wear pleather just to get it done, and I don't want to "play." I want to have weird sex with weird people who like weird things, like an adult.
Some of those weird things that I like include: rough breast play including slapping, clothespins and ropes; name-calling of the slut-bitch-whore variety; forced deepthroating; facials; "Daddy" talk; rape play; spanking; dirty talk; hair-pulling; group sex; anal; and basically anything else filthy/nasty/taboo/found in your average pornographic video. Also, and here's the stuff that's more for special occasions and that I don't want to admit on a site for ladies: being slapped, being spit on, being choked, being urinated on.
…
I don't begrudge anyone their role as captain of their own sexual steamship. Desire is complicated and tricky to regulate — I don't think I could stop being turned on by being treated "badly" any easier than a gay man could suddenly start being attracted to women. I might prefer that my big controversial sex preferences involved whipped cream or whatever instead of wanting to be slapped in the face during intercourse, but that is not the hand I was dealt.
…
We all, male and female, live in a world where a wider range of sexual activity is visible and accessible to us. As long as we keep consent, respect and common courtesy top of mind, that fact in itself doesn't have to hurt anybody.
…
Sometimes I hear women say that by engaging in "politically incorrect" sex, we are sending a message to men that all women want to be treated in such a manner. But consensual sexual activity, even if it resembles some nonconsual sexual activity, isn't rape any more than movie murder is real murder. And while some people certainly think we should eliminate movie violence lest it drive the easily influenced to commit violent acts, we're not talking about movies here. We're talking about people. And you can't eliminate people or ask them to eliminate parts of themselves, no matter how messy or unappealing their desires may seem to you.
Since we can't erase reality, we better start dealing in nuance.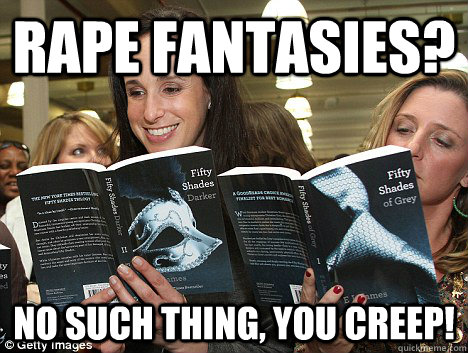 Getting slapped and called a slut because it turns me on and I've asked for it is not abuse. The men who want to do that are not abusers; in fact a lot of them are some of the nicest and most respectful men I've met outside of the bedroom. Rape play and rape are never going to be the same thing. And pretending that the two are similar is actually way more confusing and dangerous than clearly differentiating them.
If our men truly can't tell the difference between hurting, abusing and degrading a woman, and participating in consensual play utilizing some of these elements, then the problem lies with them and sexual education in our society, not with those temptingly rape-able women who enjoy rough play.
If you are still confused, consider this: After we're done, when I'm spent from being used, being told I'm a filthy whore as you hold me down or toss me around or hit me if those are the boundaries we've agreed upon, when I'm covered in saliva and sweat and bodily fluids, look at my face. I will be smiling.
That's the difference.